SHELTERING
1. O God, you are my God; earnestly I seek you; my soul thirsts for you; my flesh faints for you, as in a dry and weary land where there is no water.  2. So I have looked upon you in the sanctuary, beholding your power and glory.  3. Because your steadfast love is better than life, my lips will praise you.  4. So I will bless you as long as I live; in your name I will lift up my hands.  5. My soul will be satisfied as with fat and rich food, and my mouth will praise you with joyful lips,  6. when I remember you upon my bed, and meditate on you in the watches of the night;  7. for you have been my help, and in the shadow of your wings I will sing for joy.  8. My soul clings to you; your right hand upholds me.  9. But those who seek to destroy my life shall go down into the depths of the earth;  10.they shall be given over to the power of the sword; they shall be a portion for jackals.  11. But the king shall rejoice in God; all who swear by him shall exult, for the mouths of liars will be stopped.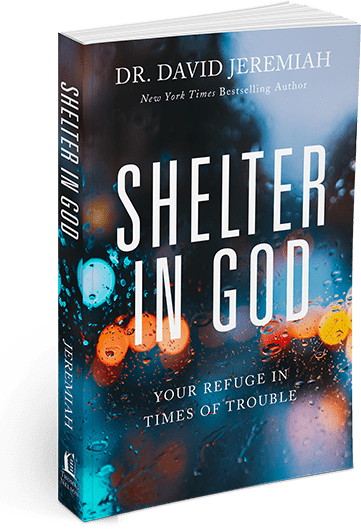 "Self quarantining has had many unexpected consequences, including feelings of isolation, abandonment, fear, loneliness, and despondency." (Shelter in God, pg 108, David Jeremiah)
Here is the backstory for this psalm of David's, written in a desert place in his life, at a time when David was also "self-quarantining." He was on the run for his life from his own son, Absalom. Absalom had been creating what might be seen as one of the first "political smear campaigns." He sat at the city gates (where the elders and leaders gathered) and dropped subtle hints about the King's age and fitness to rule, implying that "things would be different if I were king." He played to emotions and fears, stirring up bitterness and dissent, and ultimately rallied enough support to stage a real coup, setting up a rival kingdom in Hebron.
David was aware of the plots around him, but hesitated, because this was his son, his Absalom. In hesitating, he lost the moment to act, and was forced to run. In the wilderness east of Jerusalem, surrounded by desert and only a few faithful friends, David quarantined, and not by choice. But he, like us this year, still had some choices to make about his reaction to the situation.
First of all, Dr. Jeremiah points out the first words that come from David's heart: Elohim Eli, or "O Creator God, my God." David was in a desert, but he knew who not only created the desert but also the way out of it. David sought God. "The expression 'To seek' in Hebrew is related to the Hebrew word for dawn." (Shelter in God, page 113) God was David's FIRST goal, before all else, because nothing comes before dawn, the first moment of the day, the very beginning. He didn't wait for anything else to stand between himself and God.
And in a desert, thirst becomes of paramount concern. David saw the dry landscape, barren of apparent water. Yes, he thirsted for water, but he also thirsted for the kind of refreshment that only comes from God. And this metaphor, as Dr. Jeremiah points out, is the best way to understand the deep-seated desire in the human soul for God and what only He can give us.
David also longed for God. His flesh yearned for, longed for God. The words used speak of physical weakness, fainting, collapse. So David illustrates for us the unity of being is his longing: his body, soul, mind longed for, sought, thirsted for his God. When one part of our being is ill, hurt, sick, every aspect of our being is affected. So we know that David longed with all his being for his God; for his healing, help, guidance, refreshment. David sought the JOY of fellowship with his God. And as the Psalm continues, we see that played out.
Now, David knew from experience that true joy and pleasure was something that he could only find in God, and in His presence. So when he discovered (2 Samuel 15:24-25) that 2 of the priests that fled with him had taken the Ark of the Covenant from the sanctuary without seeking his or God's approval, David knew that it had to be returned. You see, David didn't need or want just a symbol of God's presence: he wanted God himself. He would find his joy in God and not earthly or created things. "Someone has said that Satan know nothing at all about pleasure; his specialty is amusement." Do we, like the 2 priests, seek our joy in things or amusements, instead of in God? I think we all can relate to this, especially in this past year with its mandated isolation and separation, as we tried to keep our selves amused.
We can also relate to David's desire to worship his God in fellowship with His people, and not in isolation. Verse 2: So I have looked upon you in the sanctuary, beholding your power and glory. One of the hardest things this year for most Christians is being separated from worshipping God together. And while it is true that God is everywhere and can be worshipped everywhere, I think we all experience something more when we worship in community. And so David here expressed what we may be feeling through this time of separation.
We have seen the situation that David was in, seen the pain and distress that he was in. But what did he actually DO?
He praised God
He pictured God
And finally, he prayed to God
How did David praise God?
Verse 3: with his lips. my lips will praise you.
Verse 4: with his tongue. So I will bless you
Verse 4: with his hands. in your name I will lift up my hands.
Verse 5: with his will. My soul will be satisfied
Verse 5: with his mouth. my mouth will praise you
Verse 6: with his memory. when I remember you upon my bed
Verse 6: with his intellect. (I) meditate on you in the watches of the night;
These are the weapons we have to defeat the enemy: Worship and Praise! We can choose to use these weapons whenever we are confronted by the lies of Satan and his lies. God has equipped his people with weapons more powerful than anything Satan has in his arsenal.
Now, picturing God. What does that look like, in David's life, or in our own? Well, we can see that picture in verses 6 and 7: As David remembers all God has done, and meditates on Him at night, he imagines that God's protection is like being under God's wings. Here he can sing for joy, instead of worrying and tossing all night ling. By remembering the faithfulness of God, and thinking about that, David and we are able to rest easy, knowing who God is and what He is capable of
And finally, David prayed to God. According to Dr. Jeremiah, the closest translation for verse 8 is: "My soul clings to You, God." Clinging is a natural reaction that we have as human beings when we find ourselves in a crisis situation. David turned to his God, and buried himself in God's arms. And we can do the same. Hanging on tight to God is sometimes the best, indeed, the only, response to impossible circumstances.
We have all been forced into strange circumstances this past year, and have experienced things that many of us have not seen in our lifetimes, or thought we'd never see again. But through it all, we can follow David's example in this, the desert psalm. First, PRAISE God, for He is God through it all. Second, PICTURE God, the things He has done in your life, imagine what it would look like if Jesus was there in the room with you and you threw yourself into His arms. And finally, PRAY to God, trusting Him to shelter and protect, love and provide.